Do you worry the components you buy won't actually meet your turbo application specifications?
We've got you covered.
We've created a customer-focused working process that incorporates customer feedback at each step throughout the production process. This ensures:
No specs misread or overlooked
No mismatch of design
No last-minute discovery of a poor fit
No expensive and frustrating delays
Our communicative process makes sure you get exactly what you need.
We're focused on a great result for each customer.
Pre-study stage
We start by discussing the application, motor performance requirements and initial specifications. This can include:
New application or replacement motor
Power, speed, and other performance needs
Operating points
Level of integration
Preliminary sizing of components
We discuss our existing solutions and whether a fully new design might be required. And we highlight possible challenges for the feasibility study.
The customer receives an early nonbinding proposal for the finished product, with rough pricing.
Feasibility stage
Here we get into a detailed analysis of the project with the customer. We look at the specific requirements of every aspect of the design, including:
Rotordynamic
Cooling
Bearings
Stator
All specific application demands, such as motor location, conditions, substance(s) the application will handle and other requirements
Optimally, some of our motors fit directly to the customer application. When a more customized design is needed, we interface with the customer to make sure all parameters are understood and agreed upon. We discuss calculations for the motor and define specifications.
We and the customer come to a mutual understanding of motor structure and an estimation of cost.
Design stage
If we use our already-tested products – standalone or semi-integrated – this stage is shorter. However, if a more customized result is needed, now is when we finalize all the particulars.
We continue communicating with the customer as we draw up final design plans.
Verification of prototypes
The customer determines the number of prototypes to develop, but two prototypes are usual.
We use the testing template and testsdetermined with the customer in the design phase. The list below is typical of tests run at this stage:
Routine

Determination of different load points
Testing in this phase can be broader than testing done later in serial production.
We run the tests, and so does the customer in their own facilities.
The motor must fulfill the specifications to everyone's satisfaction.
0 series
What happens here depends on the previous stages. The result is often a couple of machines that are used to see how variations of the product work.
Design work can be ongoing in this phase. Communication between parties continues to be key. This is the time for any adjustments, such as:
Slight modifications
Improvements suggested during testing
Modifications for cost-related issues
Then the design is frozen.
Serial production
At this point, no active design changes are needed. The product fulfills specifications, and the customer is satisfied with its function.
We and the customer begin the ordering and delivery process.
Successful process
The Switch customer-focused working method results in accurate, application-specific high-speed rotor solutions for demanding turbo applications.
We've designed our design process with regular customer communication to eliminate errors and omissions.
Your complete satisfaction is our aim!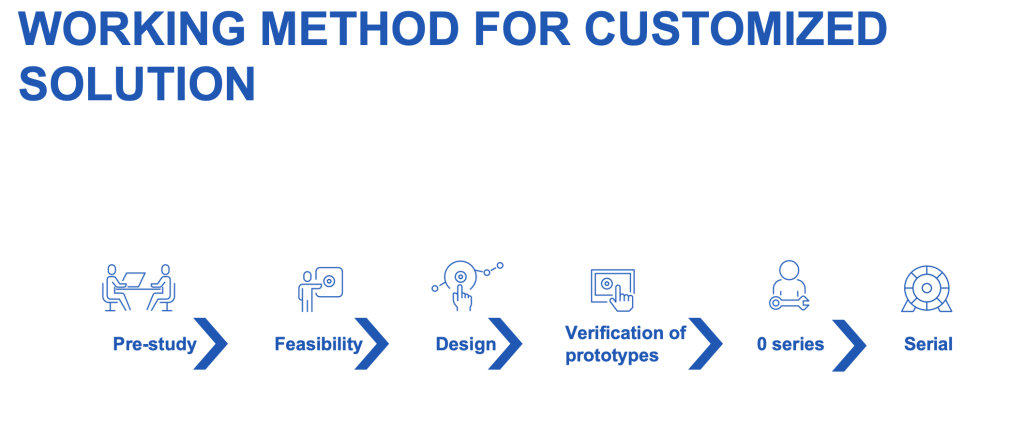 About the author
Mikko Löyttynen
Key Account Manager
Mikko Löyttynen works as Key Account Manager at Yaskawa Environmental Energy / The Switch, Finland. He has over 6 years of experience in production, supply chain and project management with electric motors and generators. He graduated from Saimia University as a mechanical engineer.