On May 26th, we had our yearly Summer Camp staff party in Finland, where almost 110 employees gathered together in Vaasa.
During the day, everyone enjoyed western-themed games and activities in the sunshine. In the evening, we had a delicious dinner by the ocean and danced until our feet hurt. It was nice to spend time together outside the office and see familiar faces outside work hours.
At Yaskawa Environmental Energy / The Switch we also vote for our employee of the year and announce them during our summer camp. The purpose of this nomination is to show appreciation and recognize the employees' great achievements and performance during the past year. The management team will then choose the winner based on the nominations.
The management team chose the winner with these closing remarks:
"A procurement and logistics professional with an excellent sense of humor, who is always willing to help and support colleagues unconditionally.​"
Employee of the year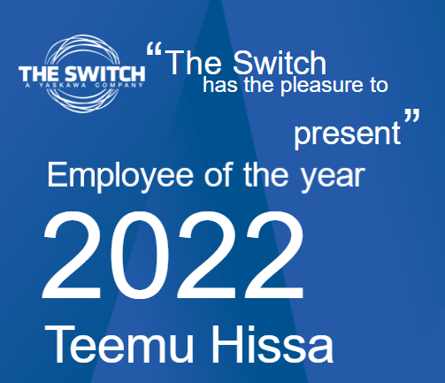 Teemu's comments:
I was asked how I feel being voted as the employee of the year. I think the answer has two sides. First is the initial announcement and subsequent surprise, or even "shock and awe" with a touch of some very Finnish "winner's" guilt thrown in as a good measure. Second, once the realization had set in that people really had voted and felt I was worthy of such an honor, I felt – and still do – very moved and appreciated. It is even borderline emotional, as I have only been myself (and occasionally tried my best 😉).
Naturally, I owe all to my friends, colleagues, teammates "brothers and sisters in arms" or basically The Switch Family. Having a laugh goes a long way. I am lucky to be surrounded by such great people. We really are dynamically different, not lazily mundane. But most importantly, we are seriously relaxed, not indifferently bored 😉

Thank you all, sincerely.
Teemu