The Switch DC-Hub for multi-megawatt DC power distribution
The Switch DC-Hub
The Switch DC-Hub is built from our proven building blocks to provide a vessel with a flexible choice of power generation, energy storage, charging, propulsion power and clean power – all connected to the DC bus, the backbone of The Switch DC-Hub. It comes with a suite of four game-changing building blocks to secure ride-through operations. Vessels can continue operating at full power, unaffected by any electrical fault.
These proven blocks make it easy for you to build your own DC-Hub to fit the exact needs of your vessel. For system integrators, our simulator allows you to develop the configuration without hardware. Our maintenance tools are purpose-built for the job.
Marine-specific design
| | |
| --- | --- |
| Future-flexibility | No compromises in features, materials or solutions |
| Durability | Very simple and robust cabinet structure |
| Copper-based cooling system | No water station needed, can be connect to a vessel's freshwater cooling system |
| Smooth operations | Stiff pedestal and vibration dampers under cabinet |
| IP44 enclosure for both power module and cabinet | Robust for the environment and protects sensitive components against failure |
Our unique, ultra-fast DC distribution protection method makes low-voltage DC power distribution safe, efficiency and redundant for fully electric and hybrid vessels.
Full suite for safety
The Switch Electronic Bus Link
Technology
The Switch Electronic Bus Link (EBL) connects the vessel's DC-Hubs and protects against faults between DC-Hubs. The DP3-rated and DNV-approved EBL provides protection outside the DC-Hub by splitting onboard grids in microseconds to isolate any faulty DC-Hub.
Ensures complete redundancy
Forms a ring network from multiple DC-Hubs
Guarantees selectivity between DC-Hubs
DP3 tested and approved by DNV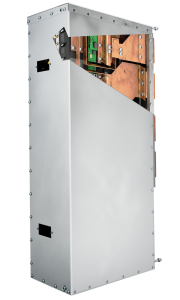 The Switch Electronic Current Limiter (ECL)
Connects the battery directly to the DC link to protect it from external failure and ensure ride-through. It functions similar to the EBL.

The Switch Battery Short-Circuit Limiter (BSCL)
Restricts any short-term current from batteries, immediately blocking the short-circuit system. This allows more batteries to be connected to the electrical system and fewer DC-Hubs, making the entire system more compact.
The Switch Electronic DC Breaker
Technology
The Switch Electronic DC Breaker (EDCB) protects against short-circuit faults inside a DC-Hub and ensures ride-through. The semiconductor-based device disconnects any failing drive module within 10 microseconds from the common DC link.
Ensures least possible energy disruption
Cuts and isolates faults within 10 microseconds
Integrated in every inverter connected to a common DC link
Prevents any voltage drop, enabling ride-through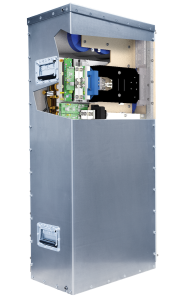 Easy to configure with our library of building blocks
Choose building blocks from the library

Application
Electrical parameters

Select your DC link configuration
Define your power scope and physical size
Power modules
High-power module with EDCB for high-power applications
Flexible module with EDCB to combine functionalities
Half module with EDCB for small powers
Electronic Bus Line (EBL) connects The Switch DC-Hubs together
Power modules built for marine
| | |
| --- | --- |
| Integrated EDCB | A dedicated, fast and predictable protection device for the power module |
| Robust power modules for marine | No compromises in features, materials or solutions |
| Digital gate driver with fast measurements | Provides accurate data for condition monitoring |
| No du/dt filters needed | Simplified maintenance, save costs |
| Fast connectors in power module | Enables fast and and easy service by the vessel crew |
| IP44 enclosure for both power module and cabinet | Robust for the environment and protects sensitive components against failure |