Yaskawa Environmental Energy / The Switch featured in Norwegian Elektronikknett on Tuesday, October 11. Read the English version here. Original Norwegian version: https://www.elektronikknett.no/fra-elektronikk-kraftelektronikk-skip-og-offshore/styrer-megawatt-anlegg-pa-skip/3156332
---
The R&D department of Yaskawa Environmental Energy / The Switch in Trondheim is well equipped with lab and test facilities. In this photo, William Gullvik and Terje Rogne present the new generation of DC-Hubs that have been developed at Yaskawa, from circuit boards to cabinets.
The next generation of The Switch DC-Hub is far more compact and includes a water connection (for cooling) at the bottom of the modules, which removes the risk of water spillage during installation and operation. The DC-Hub consists of several different components that will make managing the use and production of on-board electricity in vessels much more efficient.
At The Switch in Trondheim, powerful converters and electric motor controls are developed for ship propulsion – all controlled by FPGAs and microcontrollers.
Since the acquisition from Wärtsilä in 2016, the drives development department of Yaskawa Environmental Energy / The Switch in Trondheim has retained its position as a leader in converters and other power components for ships.
Power electronics
"The main product development takes place here, based on power electronics, FPGAs, microcontrollers, and firmware development", says R&D Manager William Gullvik. "Traditionally, we have made converters and motor controls for the propulsion of ships. We have gradually expanded the range of what we can offer by adding, for example, so-called active front-end (AFE), which can be used to reintroduce braking energy back into the system, rather than burning off the energy with traditional braking resistors. Correspondingly, it has become more interesting to use large battery banks on board the ships, which has led to new solutions for power distribution," he maintains.
Batteries as a part of the grid
"Batteries have become an important support function on ships," says Terje Rogne, Chief Engineer for Power Electronics, who cites North Sea Giant as an example. "If the engine stops, we can quickly switch to power from a converter or battery system, and thus maintain the grid. There are great benefits to this method, especially at low loads as this reduces pollution and soot in diesel engines," Rogne points out.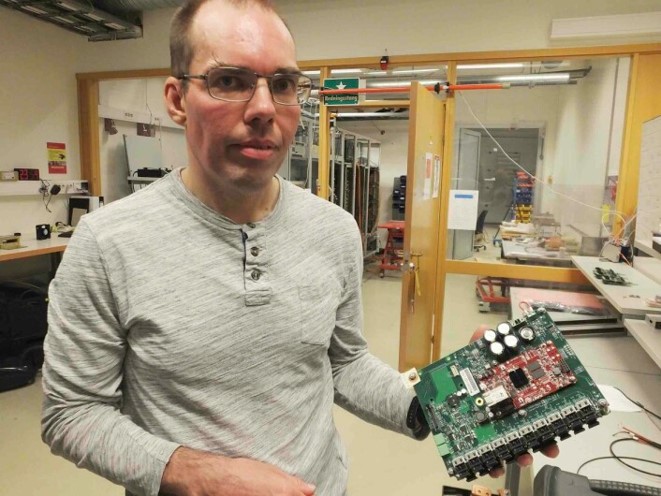 Distributed DC network
A successful product from Yaskawa Environmental Energy / The Switch is the DC-Hub, a system that ensures local distribution of DC power, rather than the traditional three-phase AC network with scattered rectifiers, transformers and more, which tend to be large and expensive in comparison. The DC-Hub consists of several components: motor/generator inverters (MI/GI), active front end (AFE) for grid connection, The Switch Electronic Bus Link (EBL) to connect several DC-Hubs together, and the DC/DC chopper to link DC sources, such as batteries, to the system.
The world's smartest
"An advantage of the DC-Hub is that it has a common DC connection, or link, to which all equipment, such as several inverters and rectifiers can be connected. This will simplify the power system and give a higher degree of efficiency," says Rogne. The company has just launched a new and updated version of the system, with improved design and performance. "The Switch DC-Hub is the world's smartest technology for distributing DC power of several megawatts," believes Gullvik, who highlights two "revolutionary" semiconductor-based building blocks: The Switch Electronic Bus Link (EBL) and The Switch Electronic DC Breaker (EDCB), which ensure very fast protection and operation at full power to avoid power outages.
Lightning-fast switching
If an error occurs, such as a short circuit in one of the DC-Hubs, the EBL ensures that it is cut out within microseconds, and at the same time guarantees continued operation in the remaining DC-Hubs. "This semiconductor-based electronic fuse is incredibly fast, around 100 times faster than a conventional fuse," Gullvik points out.
At the same time, the technology makes it possible to connect several different systems together safely, for example, to transfer energy to and from the batteries. This is something that can also be controlled dynamically during operation, according to Rogne. The short-circuit current from the batteries is often 150 kA and more, but the short-circuit is cut before it reaches 10 kA by the power semiconductors.
Monitoring
Extensive monitoring and diagnostic capabilities have been built into the systems, so service operators on land can see and gain access to ships at sea via satellite link. "There is a growing desire for online access to ships. It does, however, require an increased focus on security, something we have worked on a lot, at least in connection to the new requirements that will be introduced", Rogne comments.
In-house developed electronics
Field programmable gate arrays (FPGA) are a central component of the self-developed circuit boards, such as the gate drivers, which are used to monitor and control the insulated-gate bipolar transistors (IGBTs). Currents and voltages are measured for active regulation of the gate on the IGBT. Measurements are collected through and optical serial link to perform filtering and signal processing before the results are sent back to the software for analysis and control.
Communication between the modules takes place via optical fiber for increased robustness for noise and increased safety. A digital oscilloscope has also been implemented on the gate drivers, which can be remotely mobilized for testing and measurement, also during operation.
IGBT vs. SiC
IGBTs are still a central component in power electronics, but the question has also arisen about if the time has come to change to silicon carbide (SiC) semiconductors. The answer is probably close to "not quite yet."
Coming
"Silicon carbide is becoming interesting from an industrial perspective, as the components come in the right size or with a high enough level of insulation. In the right context, they can provide higher effects and a smaller size than traditional IGBTs," says Rogne, who indicates that the development department has already begun working on trial projects. "The use of SiC will soon be in full swing, but initially it will be a matter of finding special applications. In the meantime, silicon-based IGBTs still have large volume-to-cost advantages," he emphasizes.