Our selected business areas are supported by megatrends
This fall has been very busy finalizing new developments and bringing new products to the market. As the general market growth is slowing down and some markets are clearly contracting, we have been grateful that our business has continued to proceed quite well.
J-P
President and CEO 
Read more
What makes an optimal wind turbine?
During 2011, permanent magnet machine manufacturers experienced moments of fear. The prices for rare earth materials, essential for high-power permanent magnets, were spiraling upwards uncontrollably. Wind turbine generators are only one of the main users of these magnets.
Since then, the situation has stabilized to a level slightly higher than before the crisis. But what's the overall situation on the market right now?
Read more
---
PM machines help reboot the ROPAX industry
Today, two market conditions mark the ROPAX industry as ready for environmentally friendly innovations, such as permanent magnet machines.
First, fuel prices have gone up.
Read more
---
The Tesla of the Seas
Quiet yet powerful. Practical yet stylish. Fast yet environmentally responsible. The must-get automobile of the jet set, Tesla has taken the world's highways by storm. But is there a similar craft that can conquer the oceans?
What is the "Tesla of the Seas"?
Read more
Zero rotor defects
Over the years, The Switch has passed the thousand mark in the production of the unique solid rotor motors – with zero rotor defects!
"Some of the longest-running motors have been operating for more than 10 years. Hundreds more have been at work for the past five years."
---
Prestigious visitors tour the Lappeenranta factory
We had the honor of hosting very prestigious guests at out Lappeenranta factory. H.E. Ambassador Robert Frank Pence, the US Ambassador to Finland, visited the office and toured our factory as a part of Team Finland's USA Road Show 2019.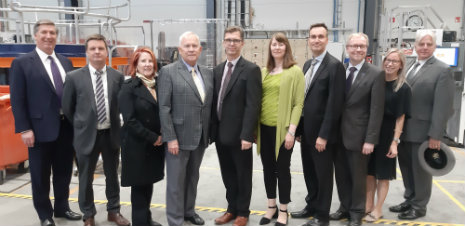 Read more
---
Musings on Monaco
The Monaco Yacht Show 2019 brought together a growing number of floating superyachts, exhibitors and visitors.
Here are three main observations from the event.
Observation 1: By 2025, both Feadship and Benetti plan to launch fully electric-powered superyachts to the market.
Observation 2: Green is in. Also in the superyacht world.
Observation 3: Digitalization embraces the market. More apps being promoted for mobile phones at the show.
Read more
---
New marine test station ready
On October 9, The Switch in Norway had the first run of its new, next-generation Poseidon Drives test station in Stord. This was also a great opportunity to do a 100% production test for two EBLs, which will be delivered to Teekay vessel number 5.